The New Zealand green-lipped mussel (GLM) is fast gaining popularity in the health supplements world. Just what is it and what health benefits does it offer? We shall offer some insights and tips on how to find the best green-lipped mussel supplements as well as suggestions for the best products.
Just What Is Green-Lipped Mussel?
Also known as the New Zealand mussel, the New Zealand green-lipped mussel is a shellfish (Perna canaliculus) native to – you guessed it – New Zealand. It differs from other mussel species due to its having green lips around the edges of its outer shell.[1] It is also used to make medicine.[2]
These shellfish (or mollusks) are farmed in New Zealand using eco-friendly methods, in what are arguably the cleanest and nutrient-rich waters in the world. GLM are farm-raised on ropes hung in the ocean, which does little environmental harm.[3]
Both wild and farmed GLM have basically similar characteristics. They both feed on the same natural diet that is sea phytoplankton (microscopic algae). Mussel farming is practiced to ensure sustainability as over-harvesting became a serious concern.[4]
However, unlike fish farming which utilizes pesticides and antibiotics, New Zealand mussel farming is highly regulated and the conditions, including diet, are kept as close to natural as possible.
Health Benefits of Green-Lipped Mussel
Since green-lipped mussel contains omega-3 fatty acids, amino acids, minerals and carbohydrates, you can to some degree expect to get the benefits associated with these nutrients.[5] Green-lipped mussel supplements are mainly used for the relief of inflammation. They may be helpful for:
Joint pain and stiffness
Arthritis: rheumatoid arthritis and osteoarthritis
Asthma and bronchitis: May help decrease daytime wheezing
Due its anti-inflammatory properties and omega-3 content, New Zealand green-lipped mussel may also offer benefits for:
Skin health
Cardiovascular
Immune system boost
Side Effects
GLM is safe to use for most people. However, you should avoid it if you have allergy to seafood, are pregnant or nursing. A small number of people have reported diarrhea and nausea. Starting on smaller doses and gradually increasing intake may help avoid some of these.
Finding the Best Green-Lipped Mussel Supplements
For people who don't live in or around New Zealand and Southern Australia, eating this mollusk is simply not practical. Moreover, GLM works best when consumed fresh. So we have to really on supplements. However, as in all other health products, green-lipped mussel supplements are not created equal.
The best GLM supplements should have the following characteristics:
Right main ingredient: It must contain true New Zealand mussels (Perna canaliculus) in its formulation.
Purity and freshness: It must be processed as fast as possible after harvest in order to keep the potent ingredients intact. Powder takes less time to process than oil, which makes it the better choice as a supplement as it is typically fresher than oil. Of course, the product must also be free of contaminants.
We have found one green-lipped mussel supplement that meets all the above criteria:
Xtend-Life Green Lipped Mussel Powder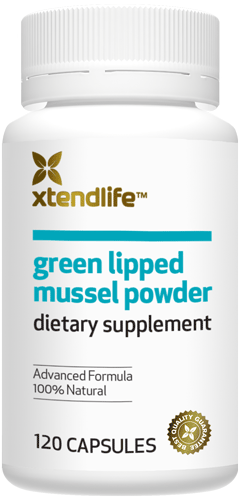 Sourced from the clean waters of Marlborough, New Zealand, MX Green Lipped Mussel is a top quality GLM supplement. This product is processed in low heat, using the most cutting-edge methods that leave the all the active ingredients intact.
In order to obtain the potent benefits of green-lipped mussels, the mussels should be eaten raw and fresh. Putting these properties into a supplement is no mean task. Speed is key. The mussels are harvested near factory ensuring they are still fresh on arrival. Contact with air is kept as minimal as possible, from catch to end product, to avoid degradation. Freeze-drying, the method that best preserves the beneficial components, is done within 30 minutes of harvest.
Here's what you get:
100% green-lipped mussel powder: no fillers of additives
Processed using cutting edge technology that removes impurities while leaving the active ingredients
500mg green-lipped powder per serving
Contains flavors, colors, additives, dairy, gluten or nuts. Six months satisfaction guarantee.

References:
[1] Wikipedia: Perna canalicula
[2] WebMD: New Zealand Green – Lipped Mussel
[3] EDF: Mussels
[4] Farming green-lipped mussels
[5] Arthritis Research UK: Green-lipped mussel
* None of the statements on this page have been evaluated by the Food and Drug Administration. These products are not intended to diagnose, treat, cure, or prevent any disease. Please consult a healthcare professional before starting a new supplement especially if you are pregnant, nursing, have known health condition or on medications.