Best Probiotics Supplements
Now Boost Your Health with the Best Prebiotics and Probiotics
Today, among the most popular health products are probiotics and prebiotics. Below we shall look at the best probiotic supplements (just scroll down if you are in a hurry) as well as prebiotics. But first let us look at what these are and how they help boost your health.
What Are Probiotics?
The word probiotic is derived from both Greek and Latin and basically means "for life." Probiotics are live microorganisms that can improve the balance of good bacteria and flora in the intestinal tract. When the level of good bacteria is high, bad bacteria cannot flourish. They also help in the manufacture some vitamins including biotin and vitamin K. Watch this video:
You have over 400 different types of probiotics in your gut that are busy inhibiting pathogen growth and promoting healthy digestion.[1] However, things such as antibiotics, toxins and poor diet can kill off the good bacteria while inviting bad bacteria to settle in. For this reason, it is essential that you arm yourself with the best probiotic supplements.
Prebiotics Also Important
Something that is often overlooked but equally important is prebiotics. These are what feeds and supports and stimulates the growth of healthy bacteria (probiotics) in the gut, and thus promoting better health and well-being.
Best Probiotics and Prebiotics Supplements

1. Xtend-Life Kiwi-Klenz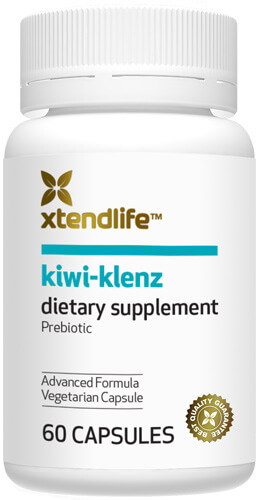 Formerly called Digesten-K, the goal of Xtend-Life Kiwi-Klenz is actually a prebiotic, that is, it helps stimulate the growth of intestinal flora. It is formulated with all of the essential components of kiwifruit, including skin, enzymes and phenolics.
Cleaning Out the Toxins: Adequate daily fiber intake is essential to good health, especially if you consume large amounts of protein. Fiber staves off pathogens and diseases by inhibiting the growth of the unwanted forms of bacteria.
Balancing Bacteria: Natural prebiotics stimulate the growth and reproduction of probiotics, which are the good bacteria that your intestinal tract needs not only for digestion but also for fighting infections and supporting your immune system.
Restoring Digestive Function: The digestive enzymes found in Xtend Life Kiwi-Klenz help break down proteins into a form that is most bioavailable for your body. Your body is then better able to assimilate nutrients that you consume via supplementation and diet.
Why Choose Xtend-Life Kiwi-Klenz?
Made using the advanced triple extraction Aqua-Pure system, no toxic chemicals or harsh solvents are used when extracting the fruit and fiber of the kiwifruit. Heat is not used, thus preserving the vital nutrients and enzymes. This makes it one of the best probiotic supplements on the market.
Additionally, Xtend-Life Kiwi-Klenz is produced using the skins of the kiwifruits for added fiber. Prolonged storage and heat destroy the unique enzymes of kiwifruits. Therefore, taking Xtend-Life Kiwi-Klenz is one way to guarantee that you are getting what you need from your kiwi fruit.
Benefits of Xtend-Life Kiwi-Klenz:
Contains both prebiotics and probiotics
Aids in digestion
Supports immune system
Reduces toxic load
Increasing nutrient absorption of food and supplements
Boosts energy levels
No synthetic additives
Check It Out Now | Read Full Review


2. Garden of Life Primal Defense Ultra
This broad-spectrum probiotic delivers over 15 billion live cells originating from 13 different species of bacterial cultures, including homeostatic soil organisms. Unlike its synthetic counterparts, Garden of Life Primal Defense Ultra is a whole food supplement, making it bioavailable to your body for maximum absorption.
Finding its place among the best probiotic supplements, Garden of Life Primal Defense Ultra is both gluten-free and vegetarian friendly. It promotes intestinal health through the growth of good bacteria as well as by balancing the pH level of your digestive system.
Garden of Life Primal Defense Ultra is a gentle yet potent formula that can survive the harsh environment produced by your stomach acids and other digestive juices. However, it works to create an inhospitable environment for bad bacteria.
Garden of Life Primal Defense Ultra is made with premium ingredients using the BioProtect packing system to guarantee freshness. Its synergistic combination of probiotics promotes cellular health through nourishment and protection.
Benefits of Garden of Life Primal Defense Ultra:
Contains a blend of friendly bacteria including the important Lactobacillus acidophilus and Bifidobacterium bifidum
Whole food based
Made with fresh ingredients
Contains homeostatic soil organisms
Gluten free and vegetarian
Gentle yet potent
Balances pH levels


3. ReNew Life Ultimate Flora Critical Care
ReNew Life Ultimate Flora Critical Care promotes proper digestion to ensure that your body obtains all of its nutritional requirements each day in order to function at peak levels. Each time-released capsule contains over 50 billion bacteria.
These enteric coated vegetable capsules are easy to swallow. In addition, ReNew Life Ultimate Flora Critical Care is dairy-free as well as gluten-free.
Specially formulated for those with digestive health concerns, ReNew Life Ultimate Flora Critical Care is one of the best probiotic supplements to use before, during and after a course of antibiotics.
Benefits of ReNew Life Ultimate Flora Critical Care:
Contains both Lactobacillus acidophilus and Bifidobacterium bifidum, two most important "good" bacteria.
Gluten free and dairy free
Promotes digestive health and regularity
Ideal for those with intestinal issues
Floods the GI tract with probiotics
Enhances immune response

All of your organs and systems rely heavily on your digestive tract to ensure optimal functioning. Good digestive health enables your body to fully absorb more of the nutrients that it needs each day. Additionally, your immune system has a direct connection to your intestinal tract. Support your health and fitness goals by making the best probiotic supplements part of your daily wellness routine.

References:

* None of the statements on this page have been evaluated by the Food and Drug Administration. These products are not intended to diagnose, treat, cure, or prevent any disease.